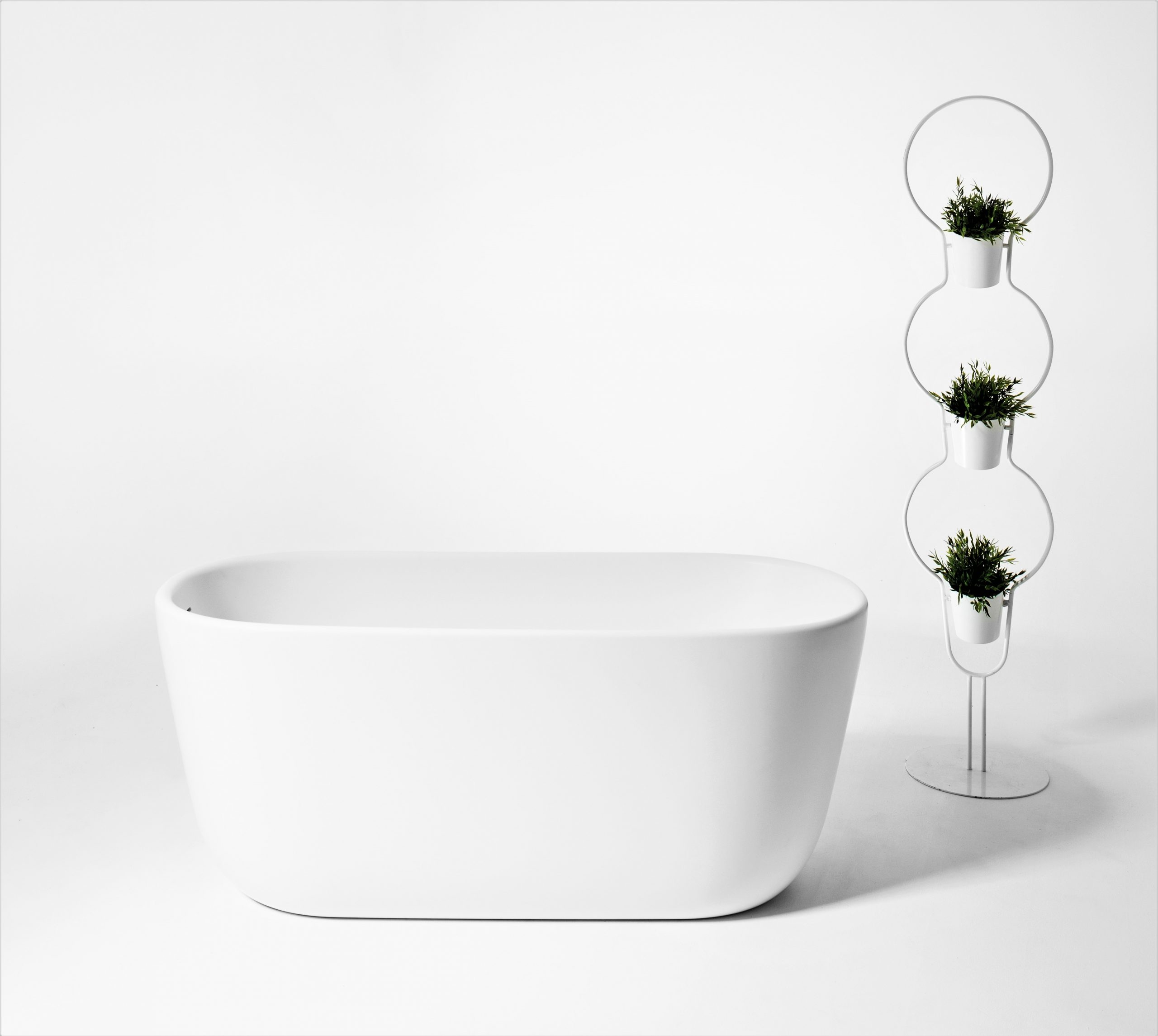 Product description: The Silkstone Apartment Bath is a relatively small freestanding bath made from homogenous engineered stone. It is oval in shape and satin white in colour. It is relatively compact for a freestanding bath with dimensions 154 x 68 cm. This makes it suitable for smaller spaces, thus its appropriate name.
Most obviously the Apartment Bath is intended to be used as a bathing tub, and is designed for use in more compact spaces. Its design caters for the look of the freestanding bath, while maintaining practically and luxury in its size and shape.
Material: The Silkstone Apartment Bath is made from mineral rich engineered stone. This advanced stone is unique in its mechanical properties, allowing for strength and purity in the surface. The material is constant throughout the bath, meaning that any small marks or scratches can easily be buffed out and the surface renewed.
Dual wall design: This bath has been uniquely design to comprise of two walls, meaning that the outside of the bath can be aesthetically pleasing, while the inside can be gently contoured allowing for a comfortable soak. The dual wall design also allows for insulation, thus keeping your bath water warmer for a longer period of time.
Strong support chassis: With most baths on the market you have to pack the bath and make sure it is perfectly level. The strong inbuilt support chassis on our Apartment Bath and the adjustable feet mean that you don't need to pack up the bath and then seal the bottom with silicon. The adjustable feet spread the load of the bath and make for easy levelling.
Built in overflow: The Apartment Bath has a neatly built-in overflow slot which prevents inadvertent flooding and allows water to drain through a sealed tube concealed within the dual wall cavity. This means that external pipes that would spoil the minimalist design are not needed.
Pop-up waste: A discreet pop-up waste made of the same Silkstone material comes with the bath, which can be simply pressed causing the drain to be sealed closed, or opened allowing the water to drain away. This built in plug means that loose plugs are redundant.
Guarantee, warranty and service support details: Our Silkstone range is covered by a 25 year warranty. We guarantee to repair or replace product that is defect through faulty workmanship or materials within the applicable period from date of purchase.
For any repairs or services our company can be contacted, using the details provided with the purchase, and we will arrange a plumber in the area to assist.