The picturesque Marathon House by Neil Architecture is a thoughtful addition to an Italianate Victorian house in the inner east of Melbourne. It maintains the classic charm of the original home while enhancing functionality for modern-day living.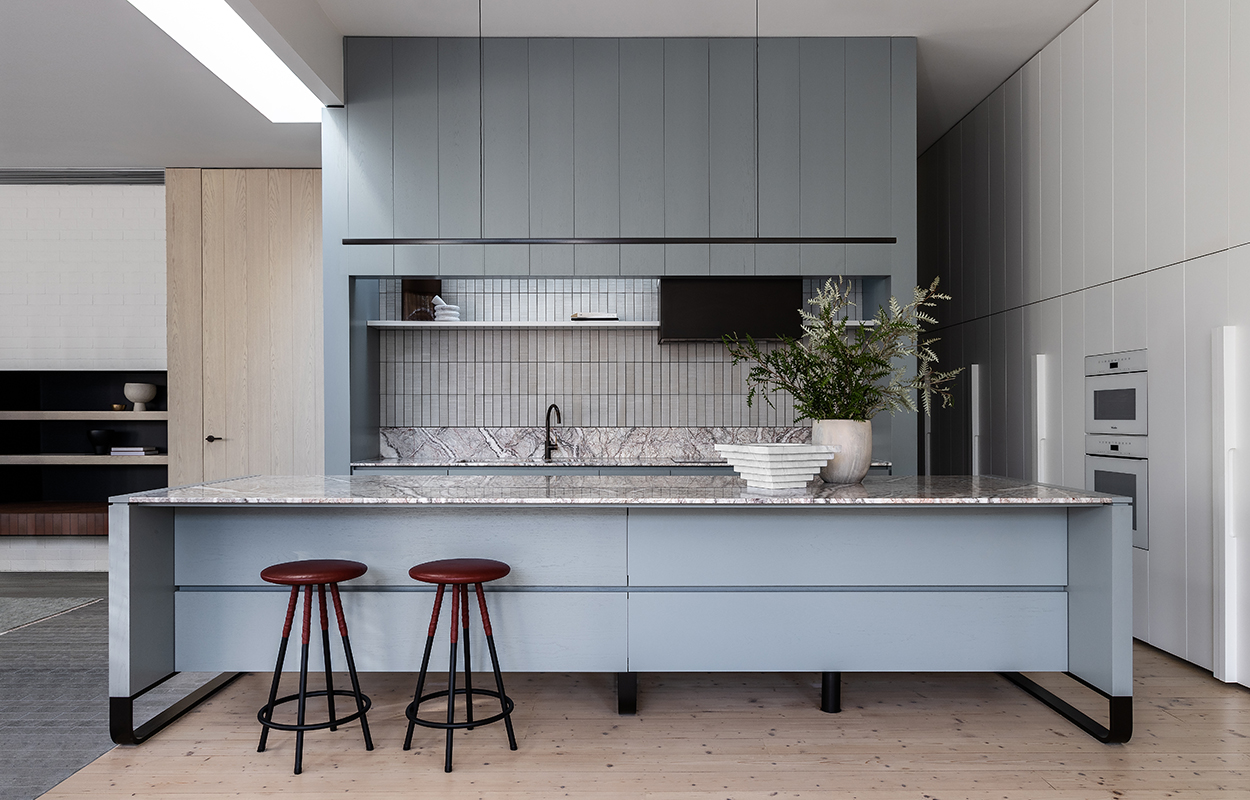 We love the muted blue cabinetry featured in the kitchen, complemented by cool-toned splashback tiles for a calming and understated feel. The white and grey variegated marble with subtle red veins pairs incredibly with the ox-blood bar stools. Further warm tones are brought into the space through the use of wood textures and our Antique Brass Medium sink mixer, creating beautiful contrast and interest. Tall ceilings add to its magnificence and help make use of the abundant natural light.
Product featured: 30690-83 Pegasi M Sink Mixer Curve 220, in Antique Brass Medium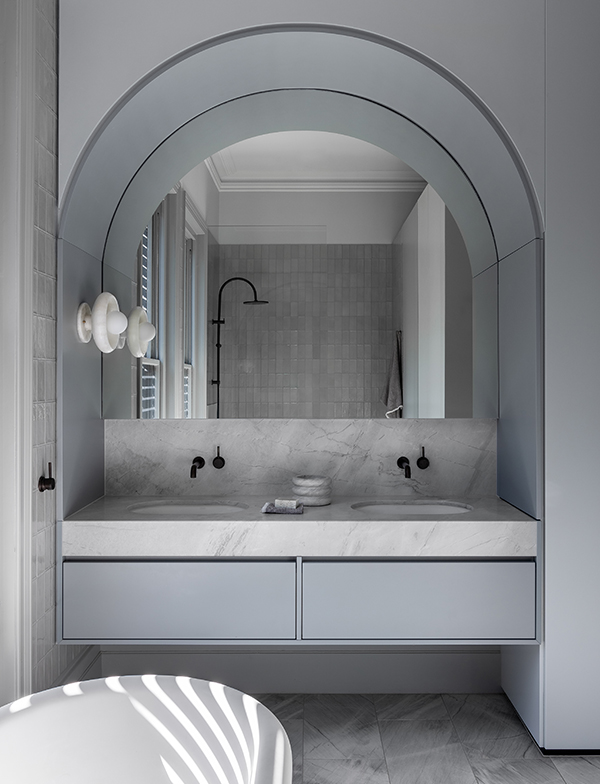 This bathroom extends upon the cool, muted shades used, with powder blue cabinetry and traditional grey tiles. The giant arch above the vanity maintains the old-world charm of the home, and when paired again with antique brass tapware, the space is elegant and classic.
Product featured: 30655-83 Pegasi M Basin Mixer Set 200, in Antique Brass Medium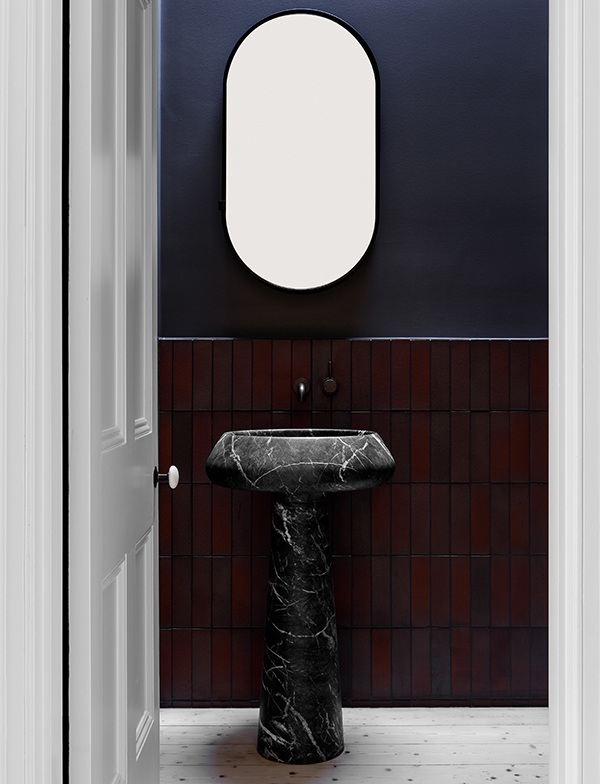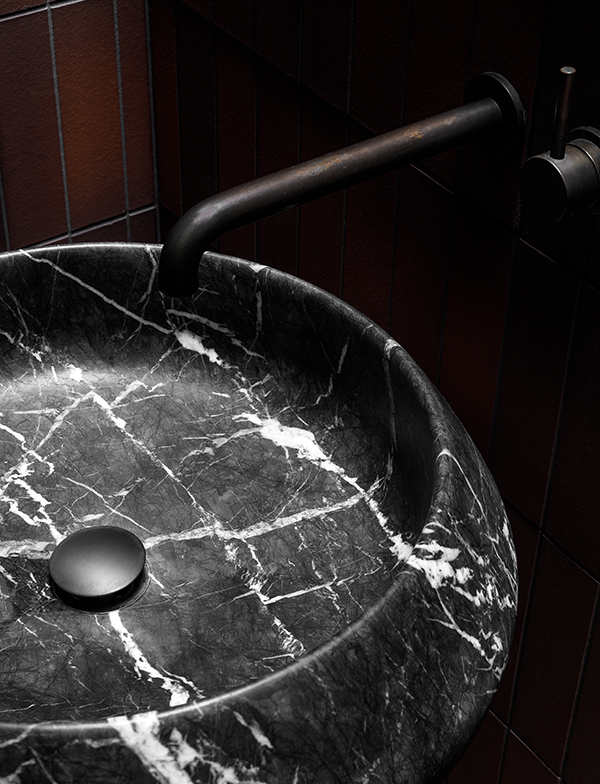 Our Antique Brass Medium tapware was chosen for the powder room as it pays homage to the history of the home with its natural finish and beautiful simplicity. The contrast of deep maroon tiles against stunning cobalt blue results in a dramatic and simply breathtaking aesthetic. The addition of bold marble accentuated by the rich shade of our aged brass creates a space that is sophisticated and uniquely striking.
Product featured: 30656-83 Pegasi M Basin Mixer Set 250, in Antique Brass Medium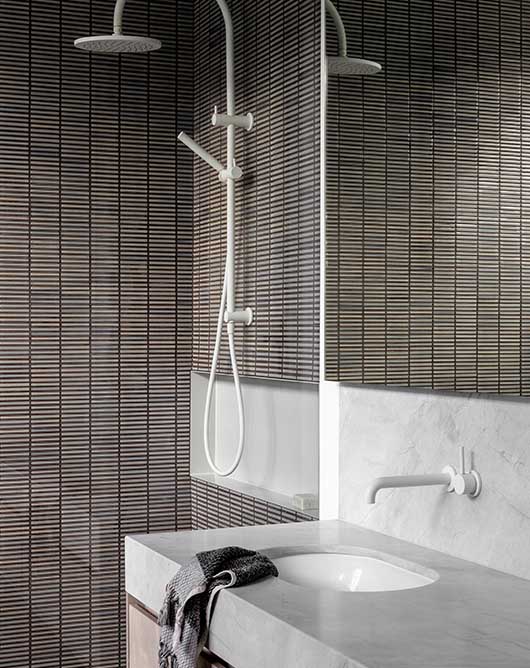 Intricate mosaic tiles cover this time-honoured bathroom, creating a gorgeous golden toned retreat. With a light wood vanity, subtle white stone and our complementing Switzrok Matte White tapware and dual shower, the space is calm and timeless.
Products featured: 30655-80 Pegasi M Basin Mixer Set 200, 30672-80 Pegasi Dual Shower 600 crv Micro 250, in Switzrok Matte White