Zero as featured in Hayden & Sara Vale's own home
Very excited to share the reveal of The Block 2018 winners Hayden and Sara's new family home! This stunning South House project nails the coastal urban design brief.
Family bathroom
The blue concrete subway tiles, silky stone baths, and knurled Brushed Liberty Gold tapware, all supplied by Amalfi Tiles, work perfectly together to create this beautiful yet practical bathroom.
The custom Rifco curved vanity and Brushed Gold N18 Zero tapware were made for each other! We love this pairing from both a sculptural perspective as well as the colouring. Round engineered stone basins, made in Europe, also tie in perfectly with the overall design.
The Zero Progresiv mixers used throughout this bathroom use a precision ceramic progresiv valve for unrivalled ease of use and smoothness of action, in an intuitive 1-touch action.
Products featured: 30953-97 Zero Progresiv Knurl Wall Basin Mixer Sets, Brushed Liberty Gold and 30824-33 Silkstone Henge Basins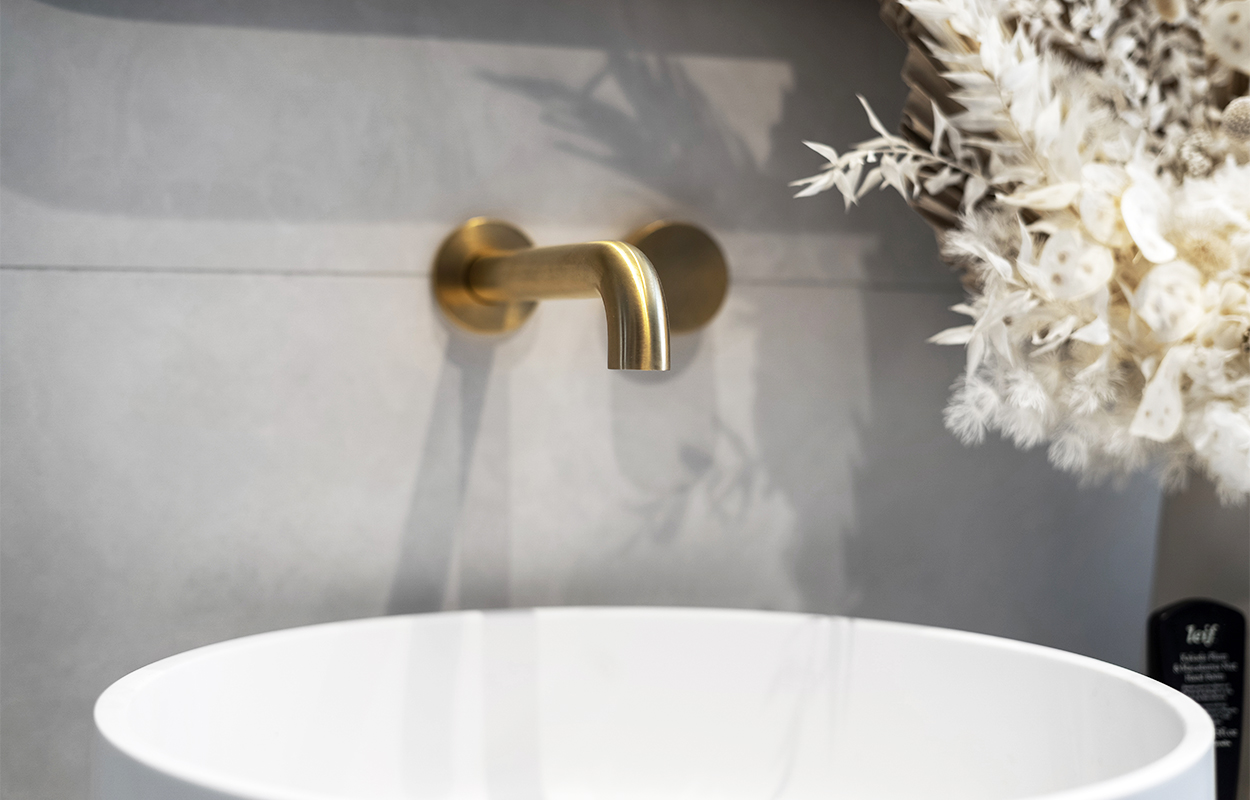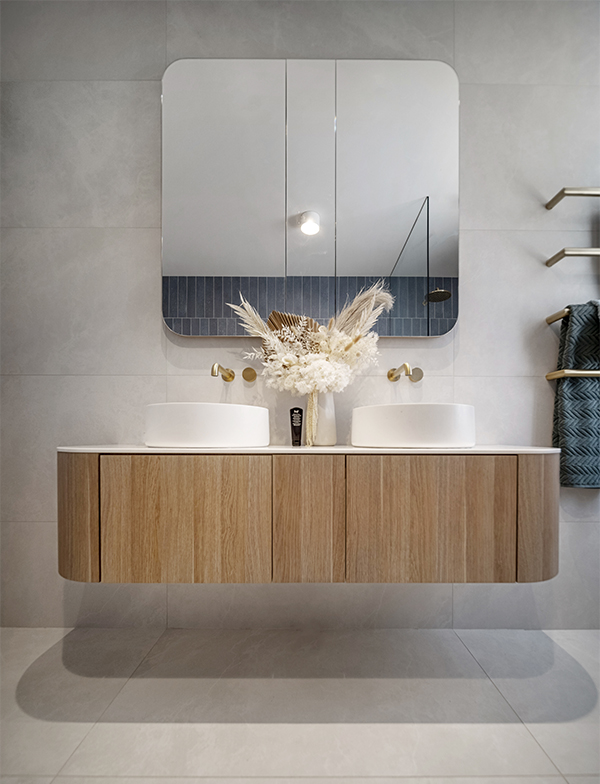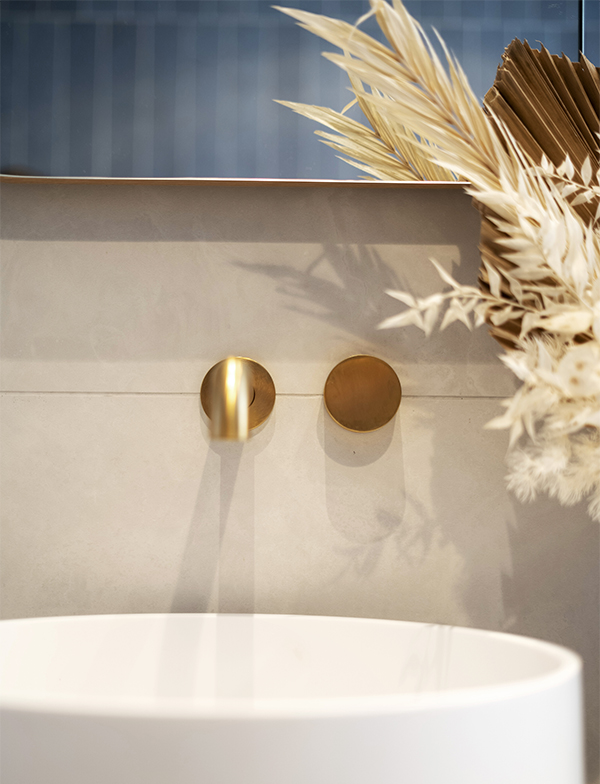 This beautiful little shower cluster, pictured below, showcases the opulence of the Brushed Liberty Gold finish, and the simplicity of the new Zero wall mixers, which have been used to control both an overhead shower, and a hand-held shower, perfect for the family bathroom. This satin finish along with the knurling on the wall mixers brings texture to the space and looks perfect paired with the Stardust tiles by Amalfi Tiles.
Products featured: 30948-97 Zero Progresiv Knurl Wall Mixers and 30681-97 Pegasi Hand Shower on Hook Micro, 30665-97 Pegasi Wall Shower, all in Brushed Liberty Gold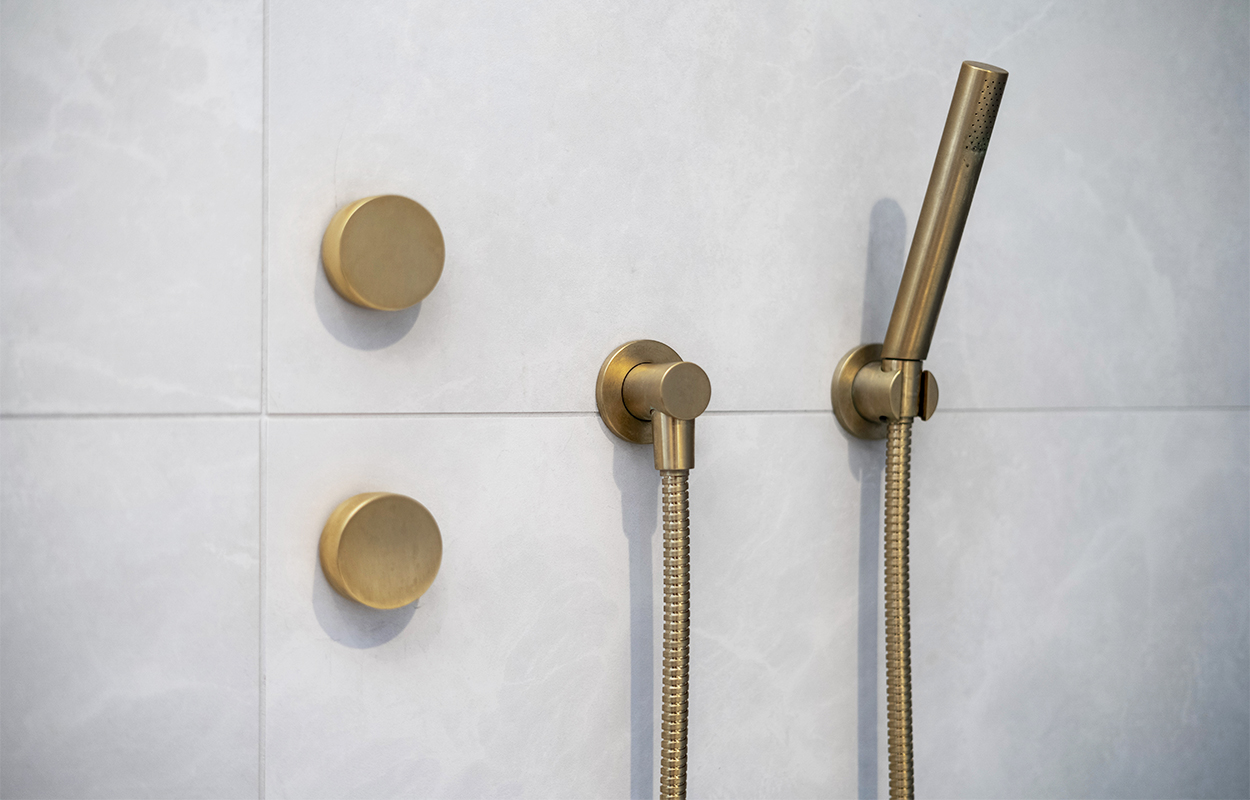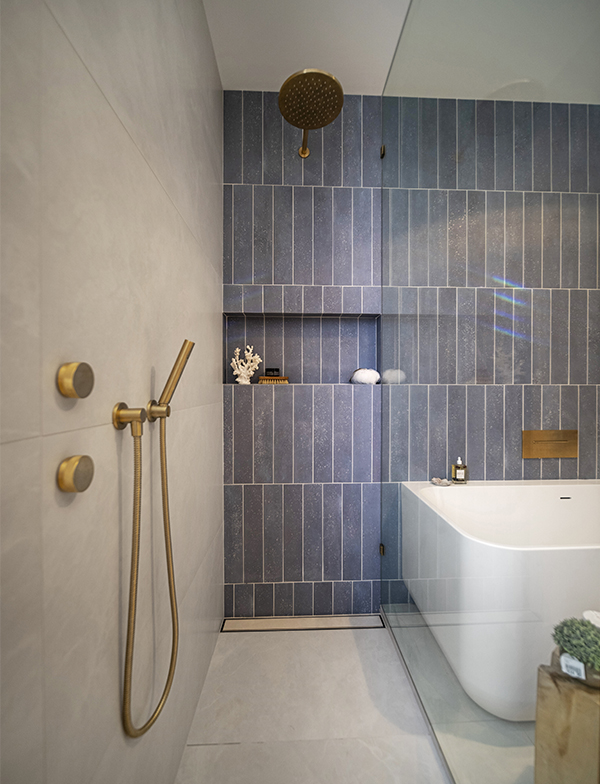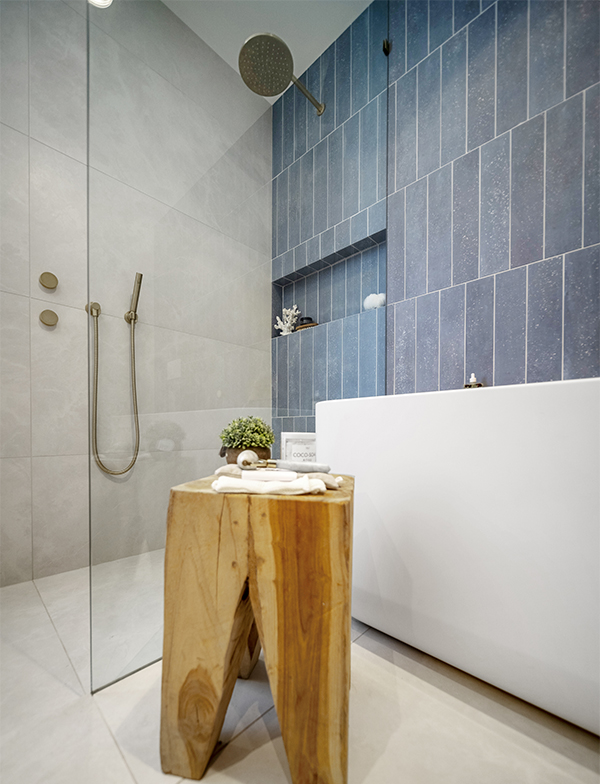 We love use of the Hauge Back-To-Wall bath which is beautiful, yet entirely practical for young children. Sara has taken a step away from the standard bath spouts, opting to use the Doccinox Wall Blade Shower for a statement bath filler that kids would love!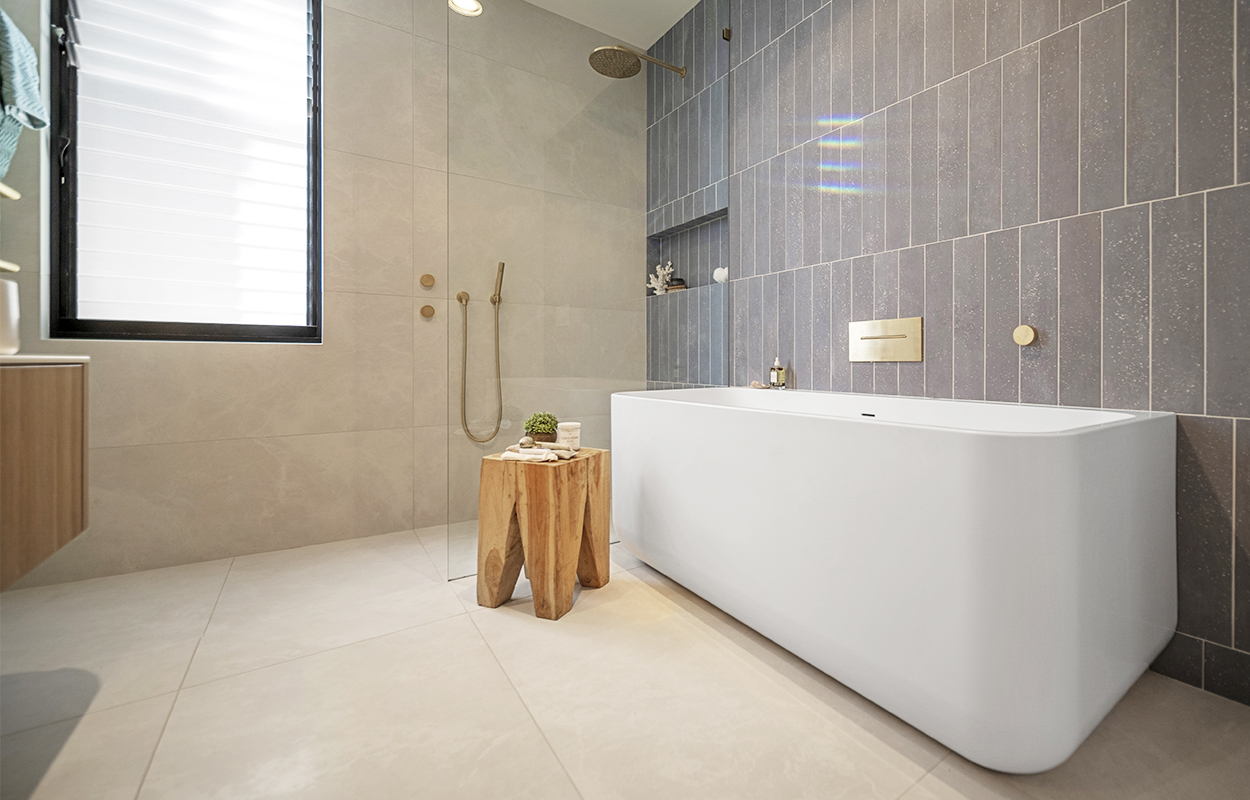 MASTER ENSUITE
The master ensuite in Hayden and Sara's South House is a tranquil sanctuary filled with luxury items. We love the use of the oversize Matte White Doccinox Rain Shower which fits flush with the ceiling and practically disappears from view.
Get the look: 30783-80 Doccinox Ceiling Shower in Switzrok Matte White, 30661-97 Pegasi Floor Bath Mixer Curve, 30953-97 Zero Knurl Wall Basin Mixer Sets, 30948-97 Zero Knurl Wall Mixers, 30681-97 Pegasi Hand Shower on Hook Micro, all in Brushed Liberty Gold, 30804-33 Silkstone Calais Bath and 30824-33 Silkstone Henge Basins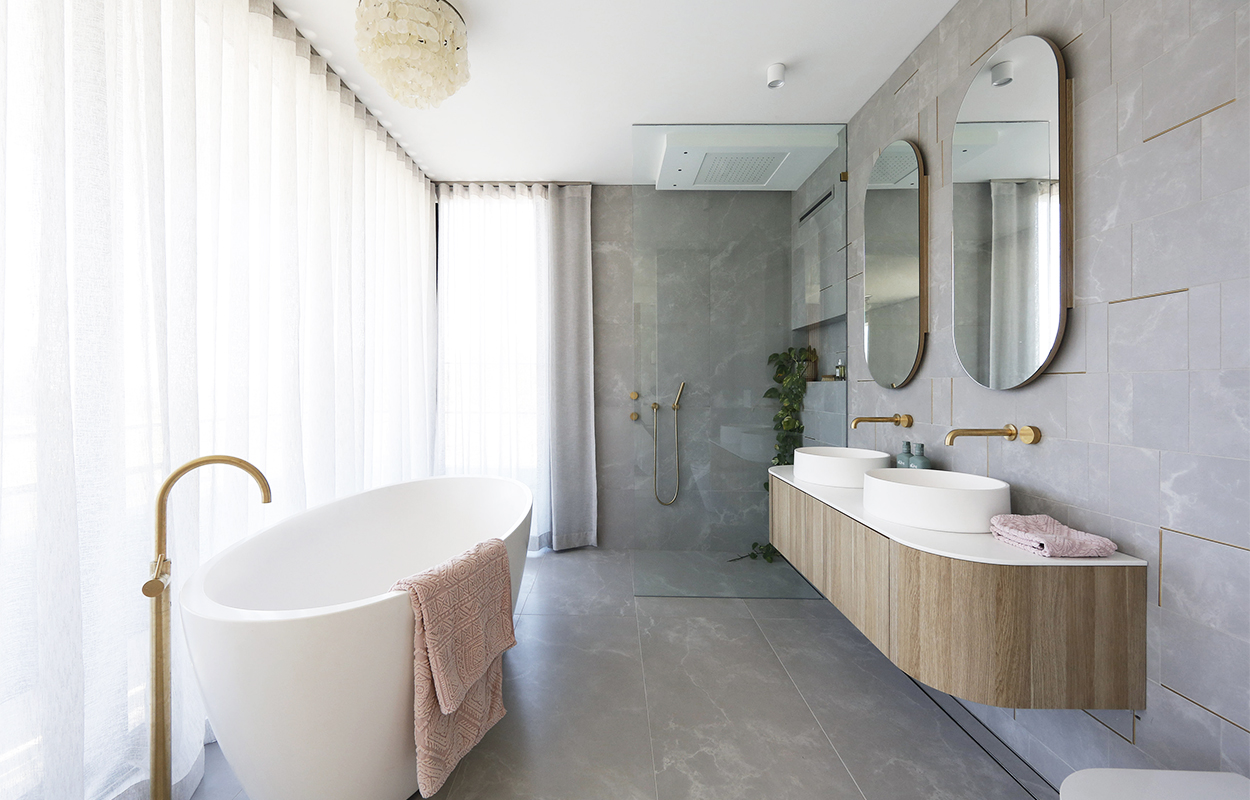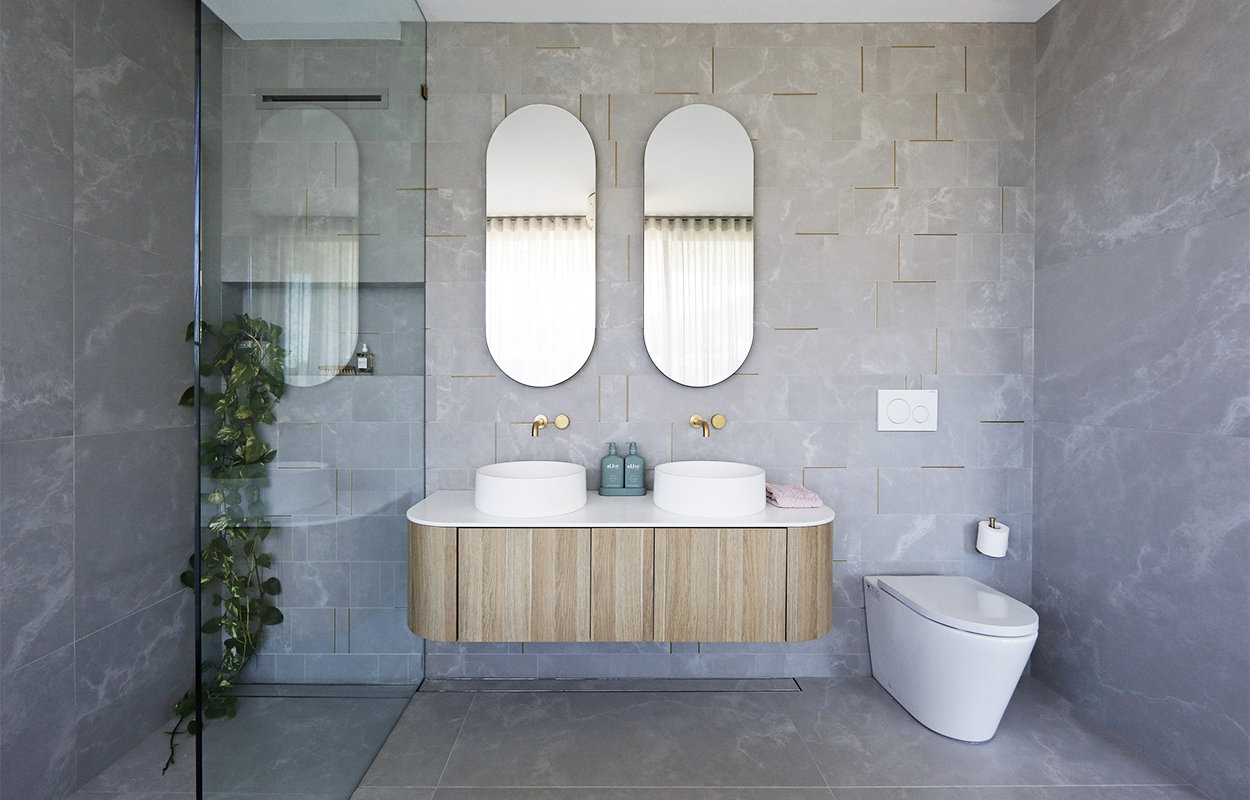 KITCHEN
The kitchen design is bold and beautiful. The deep blue wall cabinetry adds sophistication and is further enhanced by the strip lighting underneath and the gold accents. The island features curved corners clad in white panelling and is topped with striking New York marble.
Product featured: 30694- 97 Pegasi M Sink Mixer Curve Pull Out, Brushed Liberty Gold