The new Taren Point Project on Holt Road is nothing short of pure luxury. The double residence, which overlooks a beautiful coastal landscape, features natural stone and wood throughout for a mixed modern look.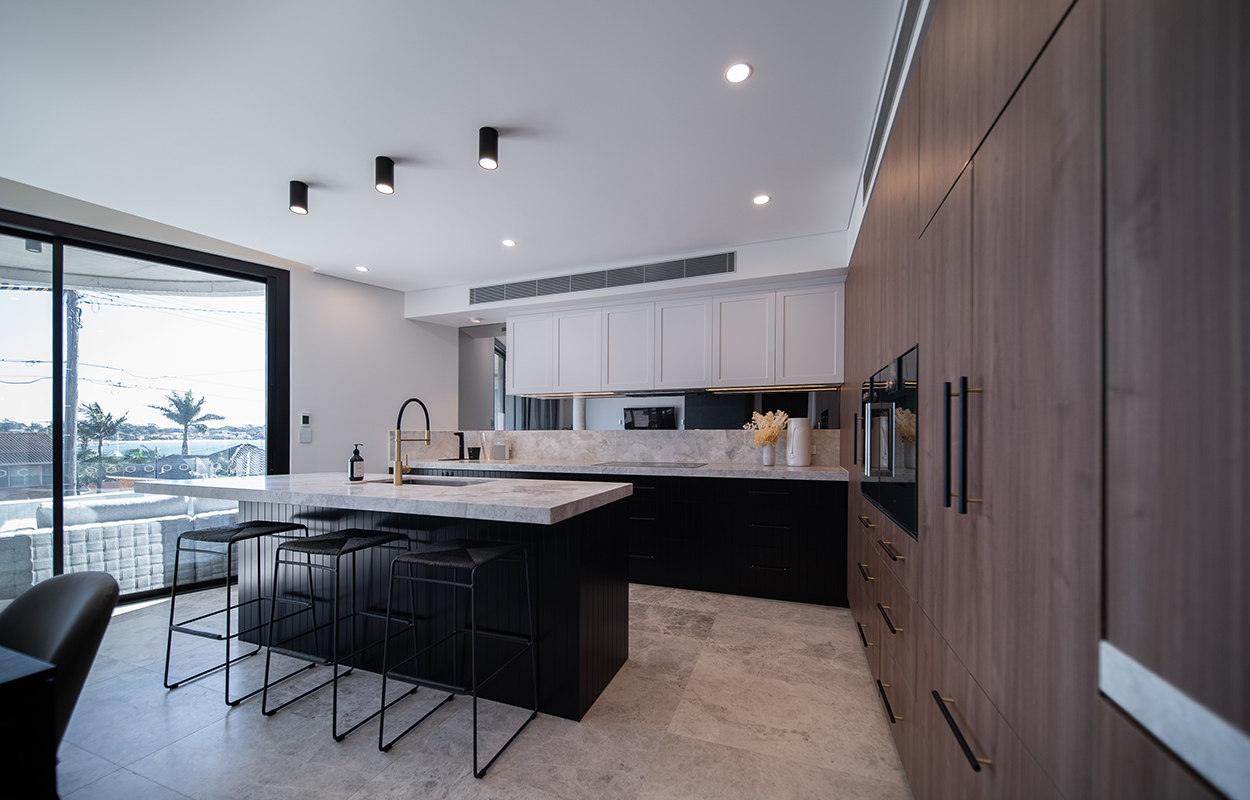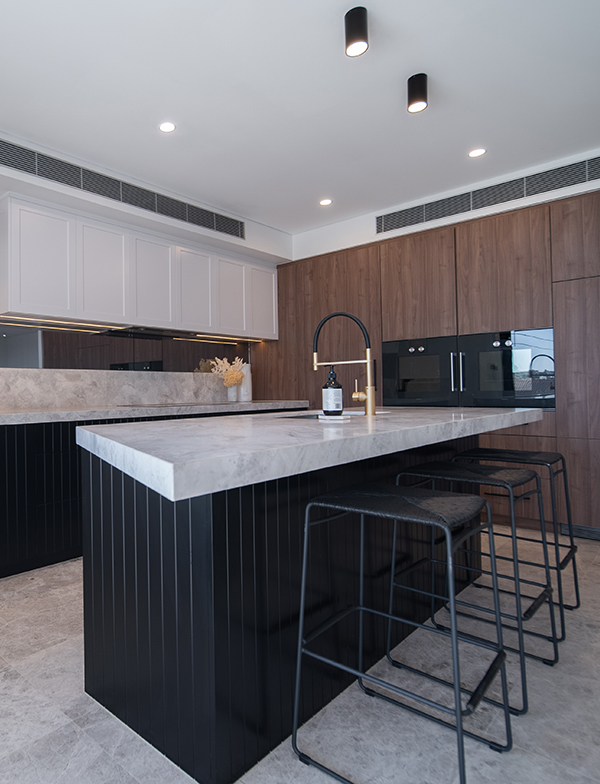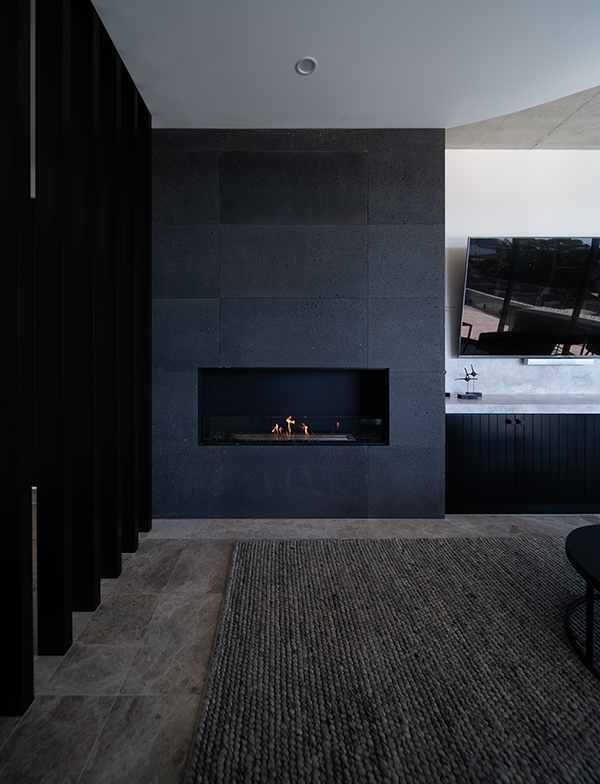 Such an incredible blend of blacks, whites, variated stones and natural woods in the kitchen and living area of the first apartment. Its open-planned structure complete with large windows establishes a spacious and airy feel. Each of the materials used is beautifully complemented by the Brushed Gold N18 finish on our sink mixer, which brings out the warm tones in each.
Product featured: 30696-97 Pegasi M Sink Mixer Pull Down, in Brushed Gold N18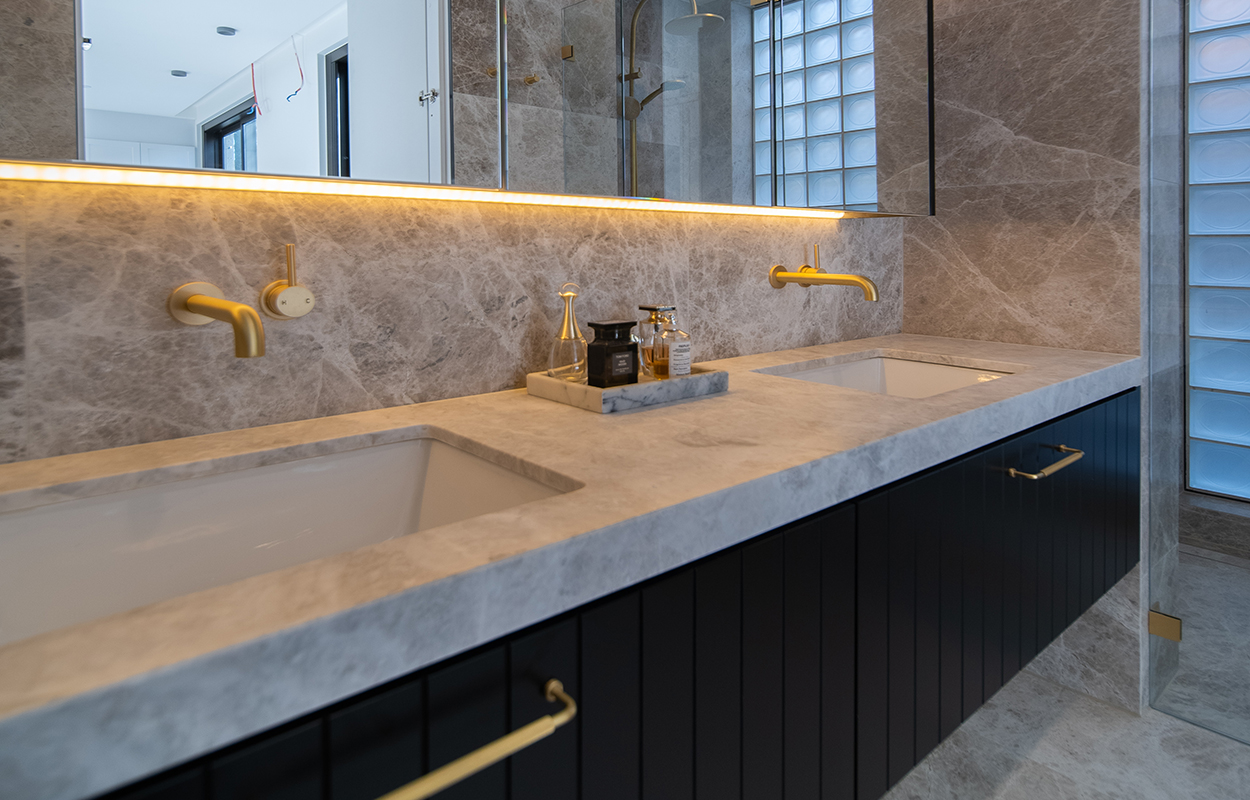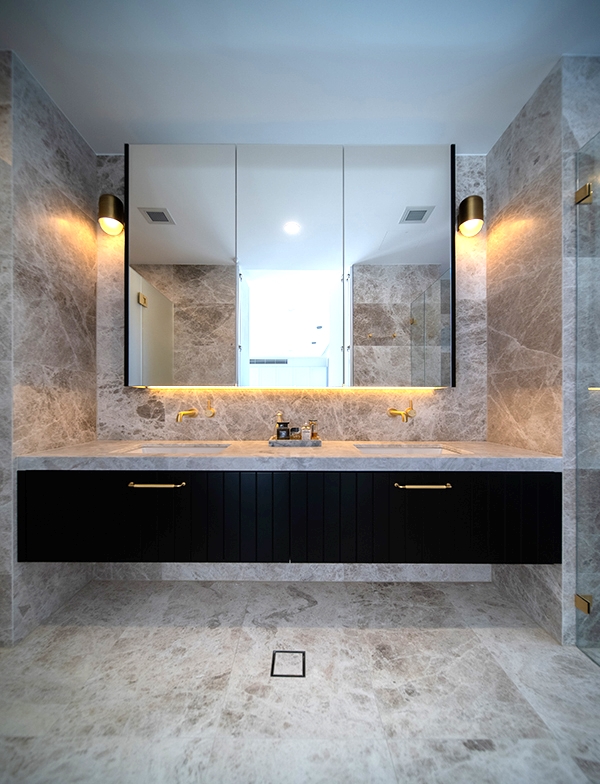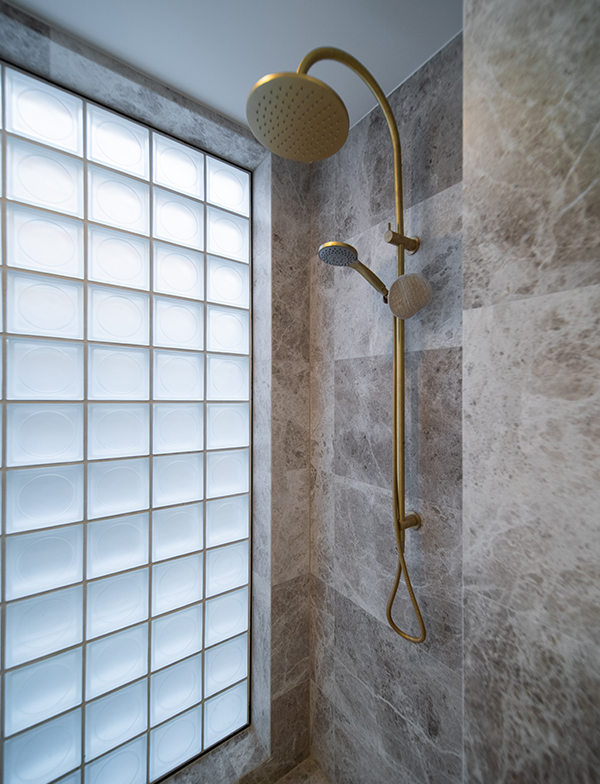 The master bathroom looks just magnificent covered floor to ceiling with the Tundra Marble from Amalfi Tiles. With such incredible variation, it collaborates beautifully with the black cabinetry and our timeless tapware for an astonishingly luxurious and extravagant look. Lighting plays such an important part in this space; the wall sconces and under-cabinet lighting add depth and warmth, perfectly complementing the materials used.
Products featured: 30656-97 Pegasi M Basin Mixer Set 250, 30671-97 Pegasi Dual Shower 900 crv 100sl, 250, in Brushed Gold N18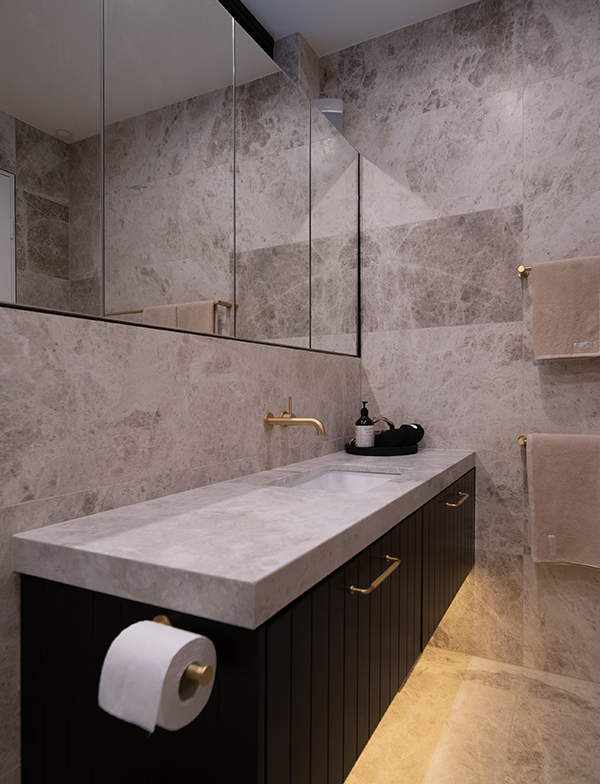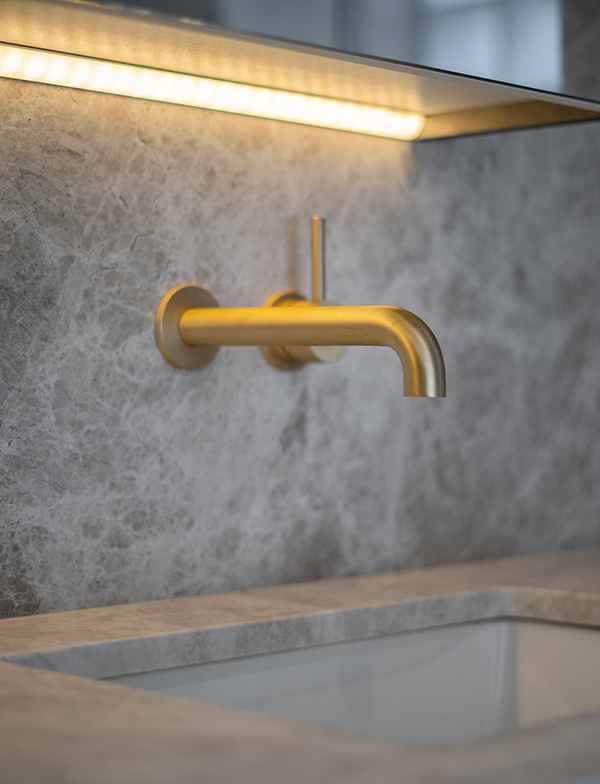 This bathroom looks so coordinated with our matching wall mixer, toilet roll holder and towel rails, all finished in Brushed Gold N18. While this finish is real gold plating, it is light in colour and looks beautifully subtle with its brushed finish.
Products featured: 30655-97 Pegasi M Basin Mixer Set 200, 30704-97 Pegasi Toilet Roll Holder, 30700-97 Pegasi Towel Rail Single 900, in Brushed Gold N18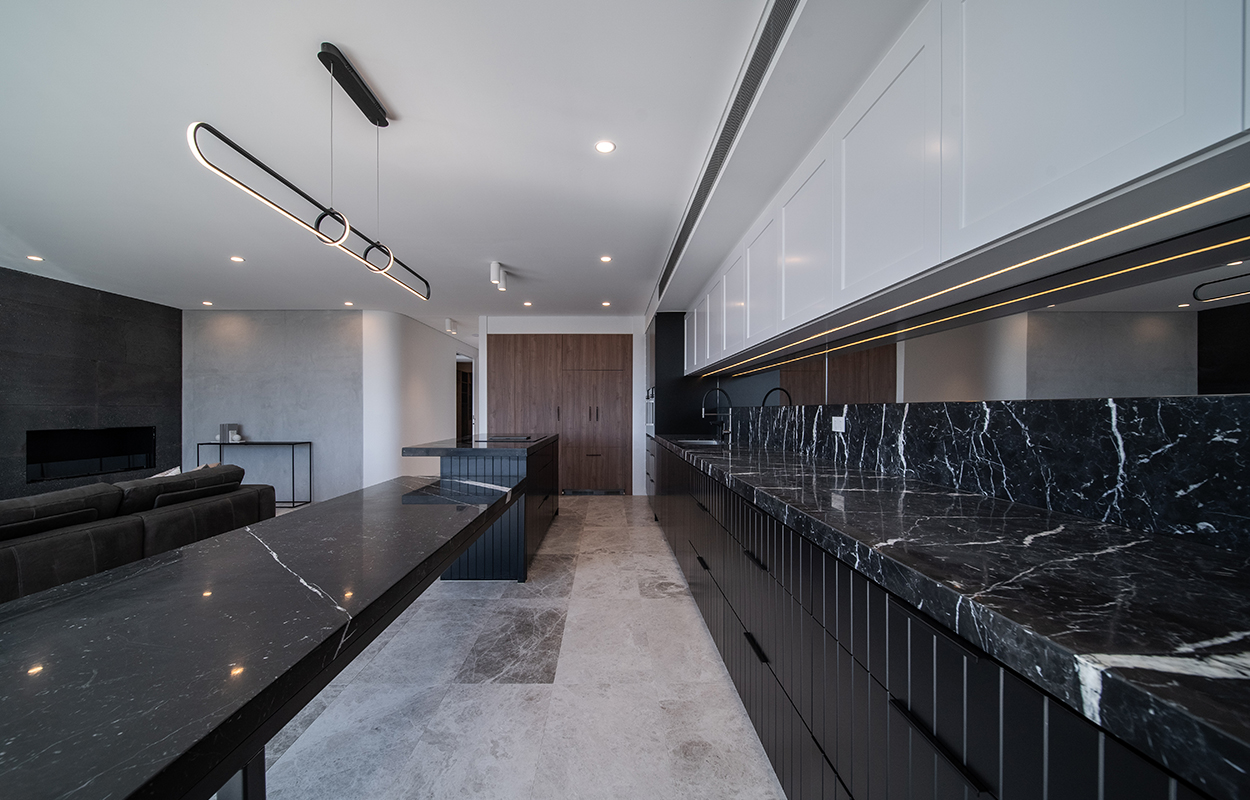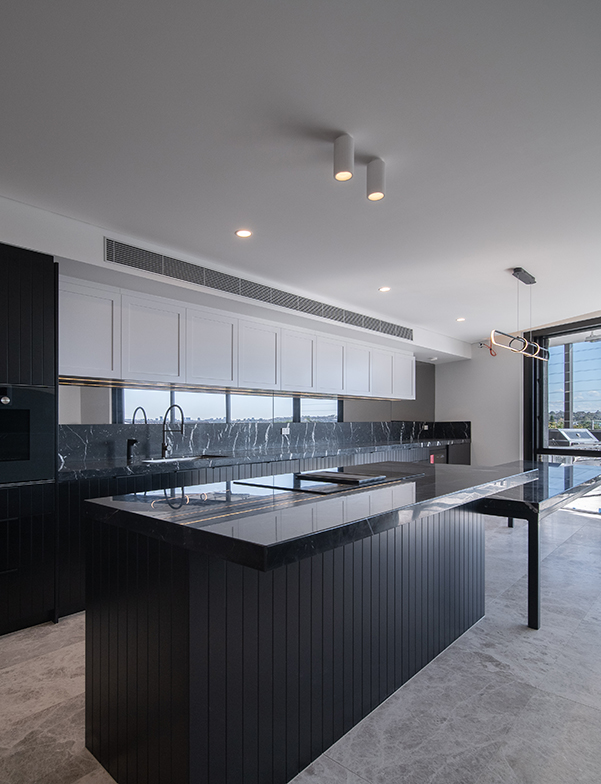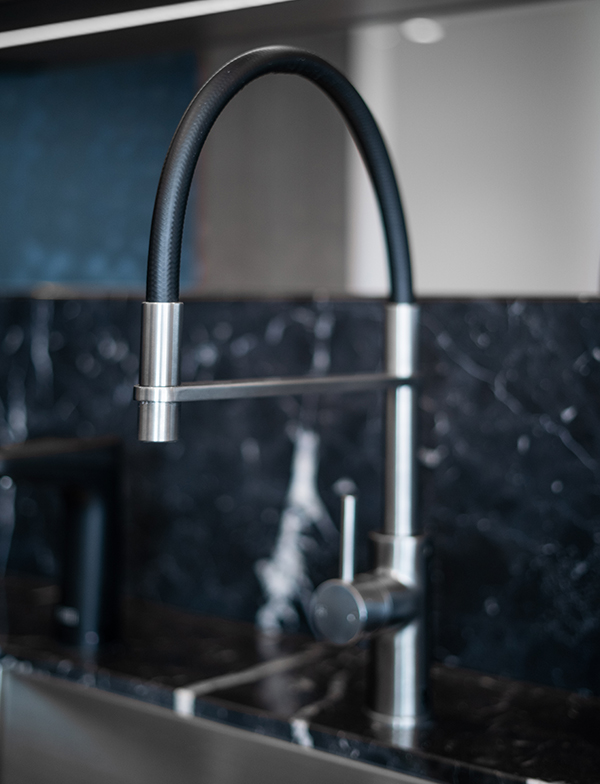 The kitchen of the second apartment features Nero Marquina marble by Overlook Tiles, which demands attention with its deep hue and bold veins. Combined with black cabinetry, the space is daring and exquisitely striking. Our brushed nickel pull down mixer and great use of lighting completes the look, bringing it to a spectacular finish.
Product featured: 30696-77 Pegasi M Sink Mixer Pull Down, in Brushed Nickel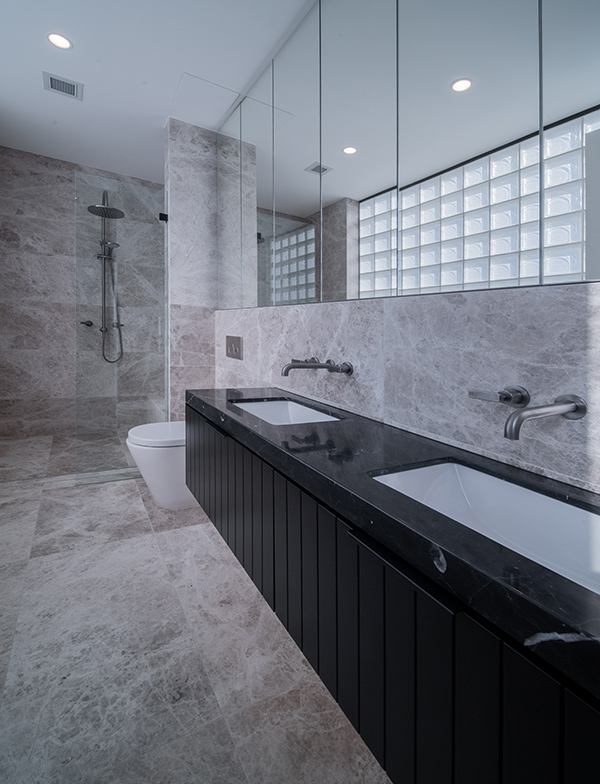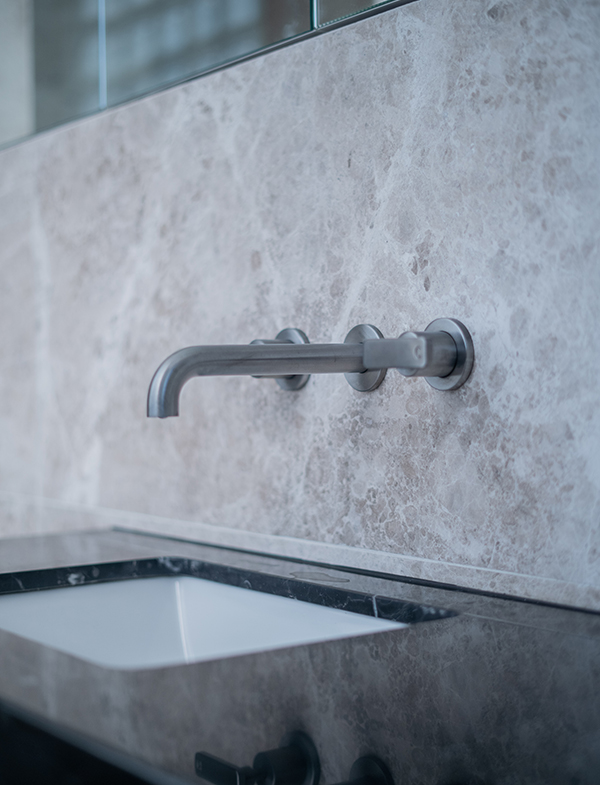 This master bathroom exudes cool tones as a result of using our Brushed Black Sapphire tapware. This stunning deep grey has a metallic lustre and accentuates the darker shades in the stone. Also featured are our Chisel D lever handles, a classic addition to the space. Their clean lines and contemporary feel collaborate perfectly with the simplicity of our Pegasi wall spout.
Products featured: 31795-93 Chisel D Lever Wall Tap Pr, 30724-93 Pegasi Wall Basin Spout 200, 30671-93 Pegasi Dual Shower 900 crv 100sl, 250, in Brushed Black Sapphire